Always the right product for your requirements
FORKLIFTS from Linde
With our forklift trucks from Linde Material Handling, we guarantee you the right solution for every application.
Whether with combustion engine or electric motor, explosion-protected forklift truck or heavy-duty forklift truck – with our forklift trucks you always achieve the highest efficiency and cost-effectiveness. You benefit from our decades of experience in the field of forklift trucks. We have also been supplying Rhineland-Palatinate, Saarland and Luxembourg with reliable and comprehensive forklift trucks and racking systems at our six locations for many years.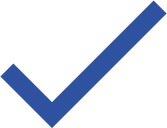 Front loader from Linde with a load capacity of up to 8 tonnes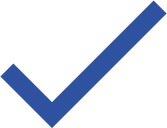 Heavy-duty forklift truck with a lifting capacity of up to 32 tonnes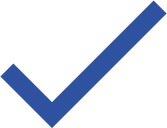 Extensive range of services and accessories
Your advantages with forklift trucks from Linde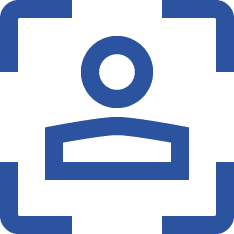 Forklift truck individually configurable according to your requirements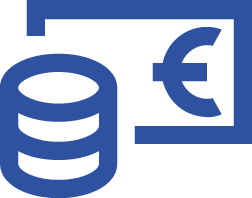 Maximum productivity and handling performance through precision and speed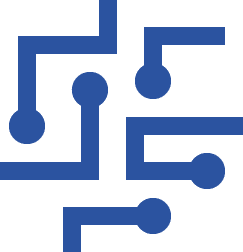 Innovative technology and assistance systems provide the decisive competitive advantage
Our front stackers according to the different drive types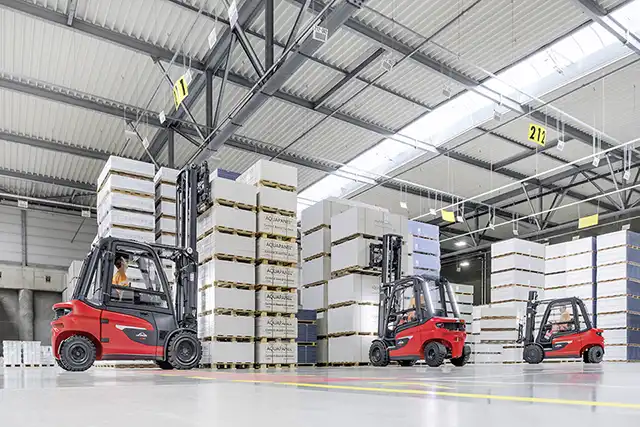 Electric forklifts
Linde electric forklift trucks impress with their precision and manoeuvrability. In combination with the millimetre-precise double-pedal control, this results in a high and at the same time environmentally friendly handling performance. Electric pallet trucks are also available for smaller requirements.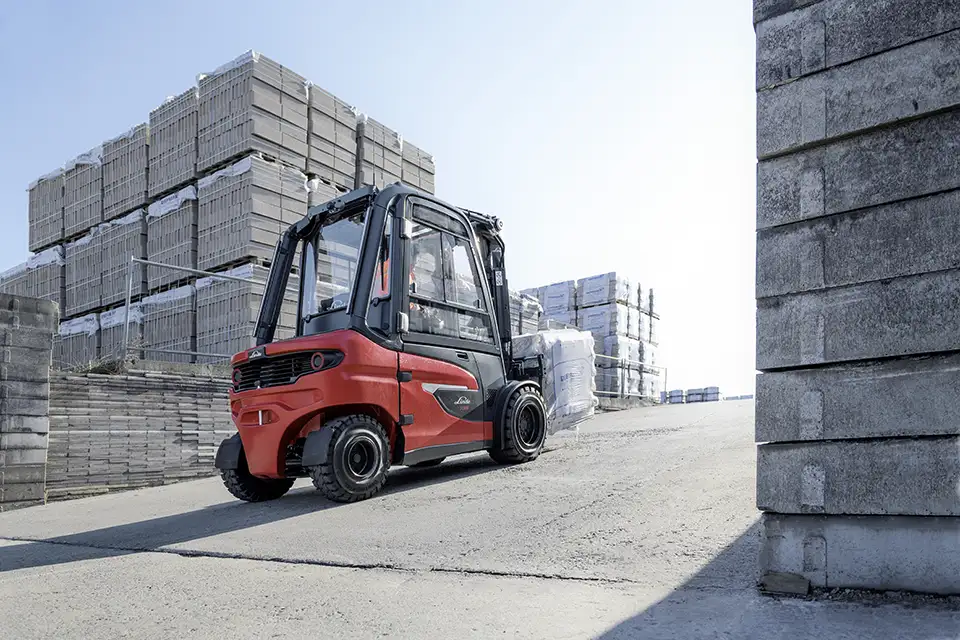 The best out of two worlds
The electric forklifts X20 – X35 reach new performance dimensions and combine the dynamics, flexibility and zero emissions typical of electric forklifts with the performance, power and robustness of IC engine-powered forklifts.
Good reasons for Linde forklifts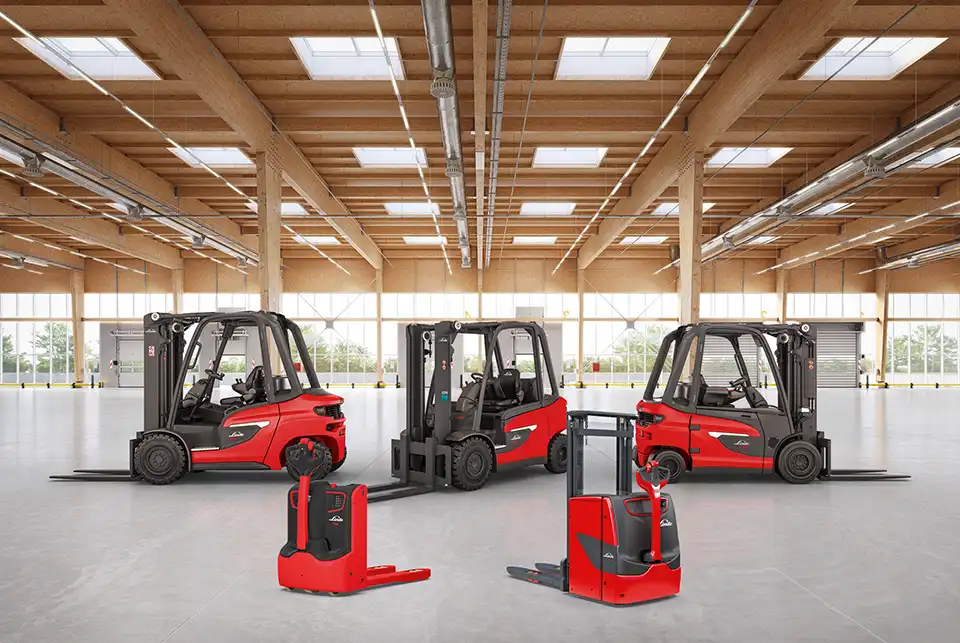 Various versions
Forklifts belong to the group of industrial trucks. They are mostly used to transport goods and merchandise. A distinction is made between different types of forklift trucks, which are optimally adapted for their individual purpose.
In addition to the common counterbalance forklifts (often simply called forklifts or stackers), there are other types such as reach trucks, order pickers, narrow-aisle trucks, sideloaders and telescopic forklifts.
The structure of a forklift truck
A forklift truck has a so-called lifting unit, which consists of the lifting mast and the fork carriage.
The fork carriage holds the forks that give the forklift its name, which can be replaced or extended by various attachments and thus adapted to the individual application.
Due to the rear steering, forklifts are very manoeuvrable and can thus also be used in narrow aisles (narrow aisle).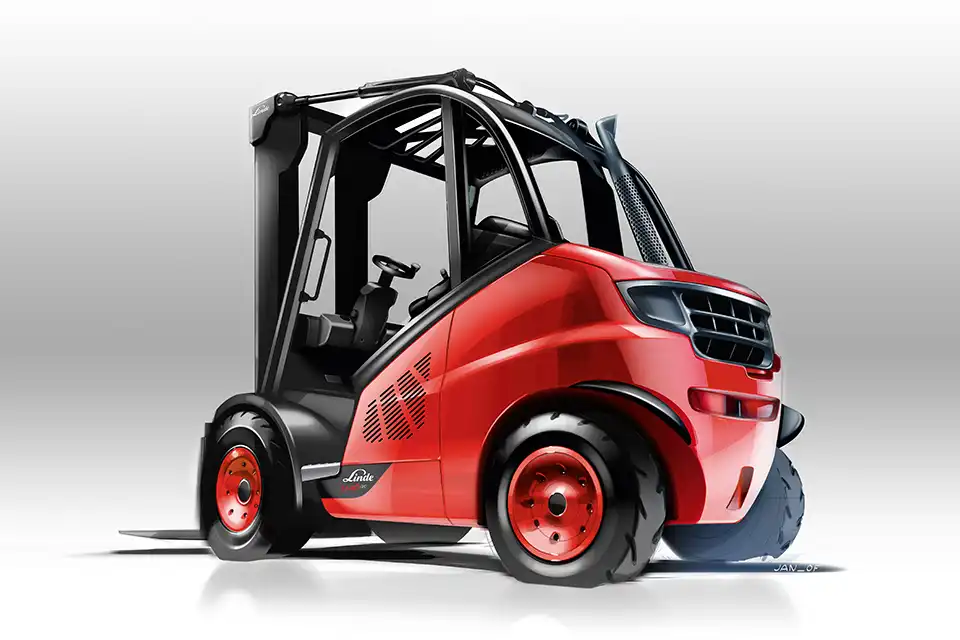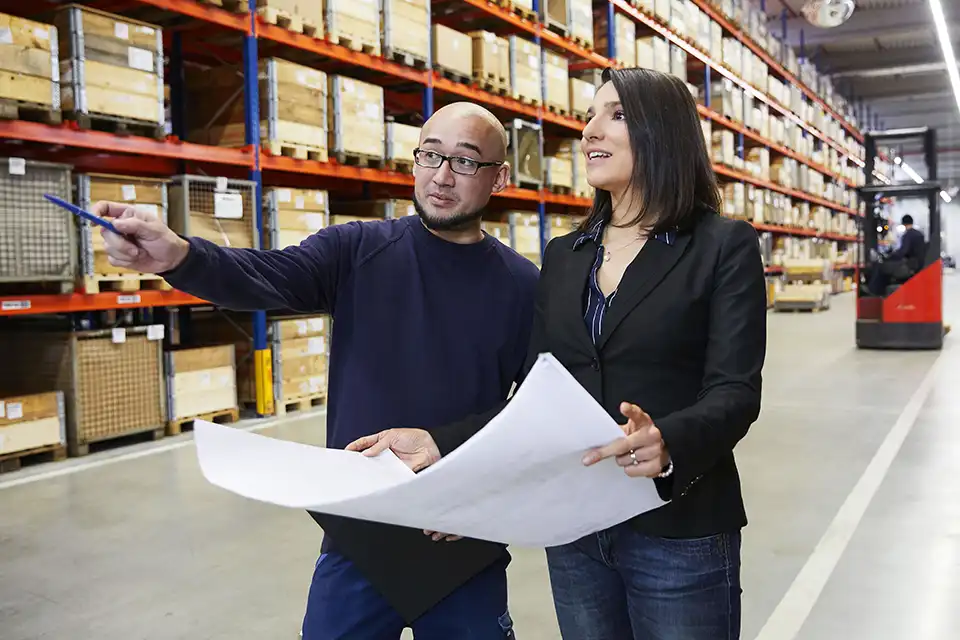 Find the right forklift truck
Due to the many different versions of forklift trucks, we recommend professional advice. In addition to the place of use, factors such as the shift model used, the required load capacity and the desired lifting height are decisive when selecting the equipment. Often, especially in halls, emission-free electric forklifts are preferable, as well as internal combustion engine forklifts (diesel or gas forklifts) in outdoor areas. The goods to be transported and the racks used determine the required load capacity and lifting height. In addition, the height of the hall doors to be passed through must also be taken into account.
Alternative: Used forklifts
In addition to new forklift trucks, we also offer a large number of used forklift trucks that have been reconditioned in our specialist workshops.
In this way, smaller companies in particular can buy or finance high-quality forklift trucks at a favourable price, even if they often only have to be used infrequently.
First of all, it should also be clarified whether the forklift truck is primarily used outdoors or indoors, at what intervals it is driven, how much space is available and what lifting height and maximum load capacity is required.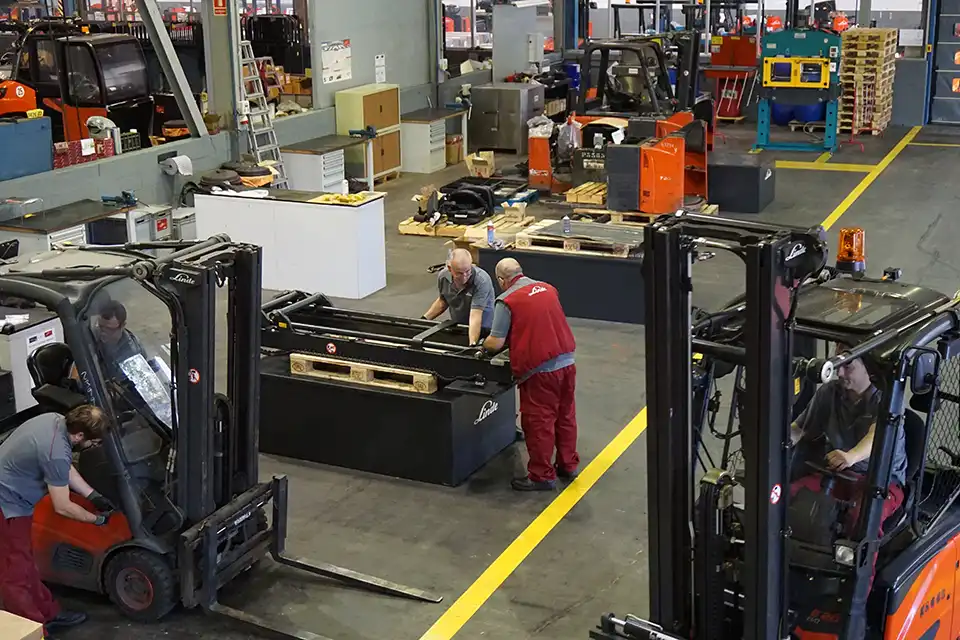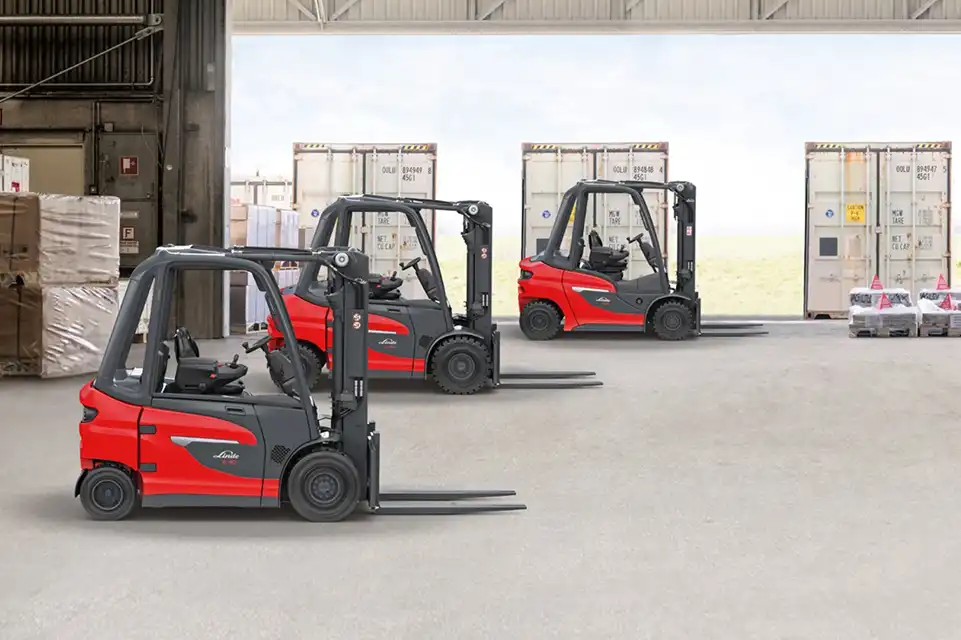 Renting makes it easier
Your order books are more than full? A seasonal peak needs to be covered? You would like to rent one or more forklift trucks flexibly and at short notice? With our rental service you can react to the additional workload in an uncomplicated and fast way.
Reduce accidents and save costs
Nowadays, forklift trucks are equipped with increasingly versatile assistance and safety systems. In addition to a well thought-out and robust design, various mechanical and electrical systems ensure the active and passive safety of forklift trucks and employees.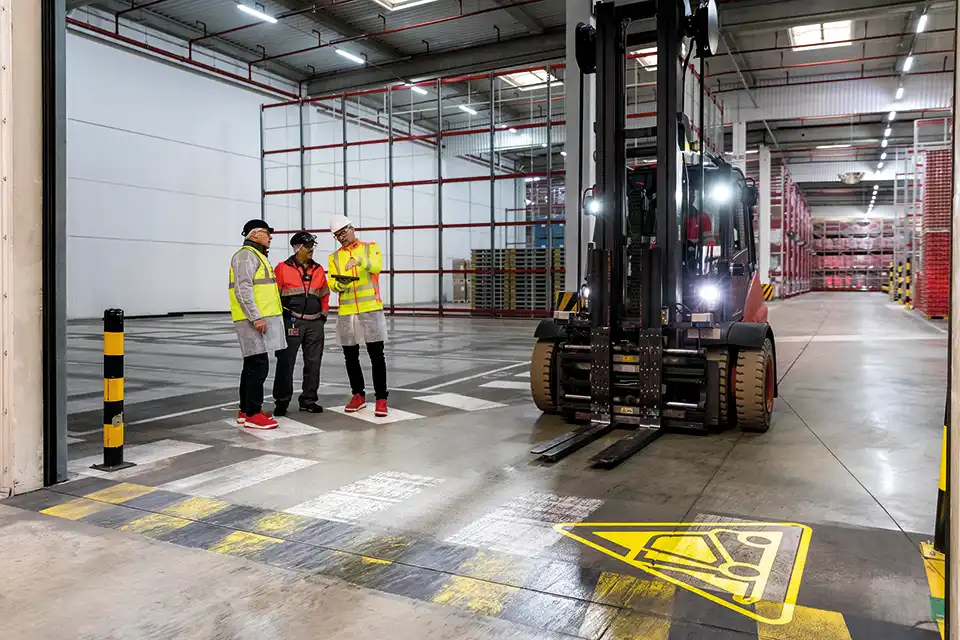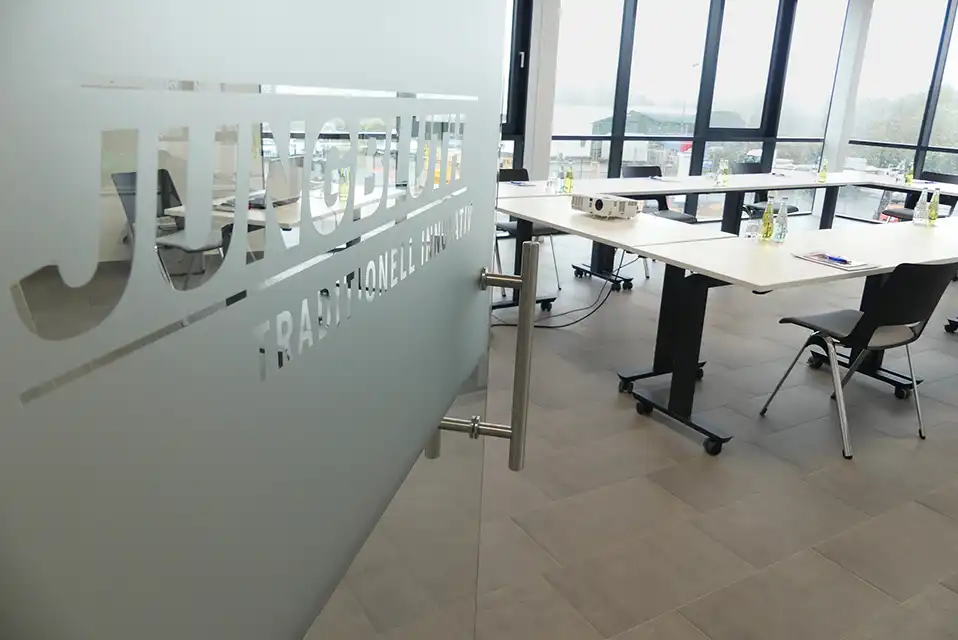 Get your forklift licence
To operate a forklift truck, you need a forklift licence (or usually simply called a "forklift licence").
You can obtain this licence in our in-house training centres or at your premises within a 2-day course.
On our training page you can also find out more about the requirements for obtaining the forklift licence, about current training dates, about the legal framework conditions and about training in theory and practice.
Frequently asked questions about forklifts
This question primarily depends on where the forklift is used. An electric forklift truck, for example, is best suited for work indoors, as no emissions are emitted and the work can be performed almost silently.
Diesel forklift trucks or gas forklift trucks are usually used outdoors, as here a simple and quick energy supply with gas and diesel can be guaranteed. Furthermore, combustion engine forklifts can withstand more difficult weather conditions due to their high load capacity.
The cost of a forklift truck depends on various factors, such as the type of drive, the load capacity and the selected equipment – basically like the configuration of a car.
Den Führerschein für Gabelstapler, oder auch Staplerschein genannt, können Sie in einem 2-Tägigen Kurs, bestehend aus einem Theorie und Praxis Teil, in unseren Jungbluth Schulungszentren erhalten.
Of course. It doesn't matter whether you need equipment for a short rental period of a few days or for several months – we rent out forklift trucks, warehouse technology and much more.
The so-called free lift of a forklift truck or warehouse equipment means that the forks or the load can be lifted without increasing the overall height of the forklift truck. This means that the lift mast is not initially extended upwards and the overall height remains the same. This function is especially required in areas of application where a large lifting height is needed despite low room height.
This might also interest you