Safe logistics performance through explosion protection
Explosion-proof vehicles
In the production of many branches of industry, explosive gas mixtures, vapours, mists or dust clouds are created as a side effect. This is the case, for example, in the pharmaceutical and chemical industry, in the printing and paper industry, but also in grain or sugar processing. In such companies, intralogistics vehicles must guarantee maximum explosion protection in order to avoid accidents. Explosion-protected vehicles from Linde have been providing this protection reliably for many years.
Numerous counterbalance trucks, reach trucks, high-lift and low-lift trucks from Linde Material Handling are therefore offered in explosion-proof "Ex" versions. This means that the entire material flow in a company can be handled under explosion-proof conditions. Components that can cause sparks, such as drive parts, wheels or lifting forks, are protected by surface treatment.
In addition, the surface temperature of vehicle components is regulated to prevent excessive heating. Despite the additional equipment, the vehicles retain Linde's typical efficiency, handling performance and ergonomically designed construction.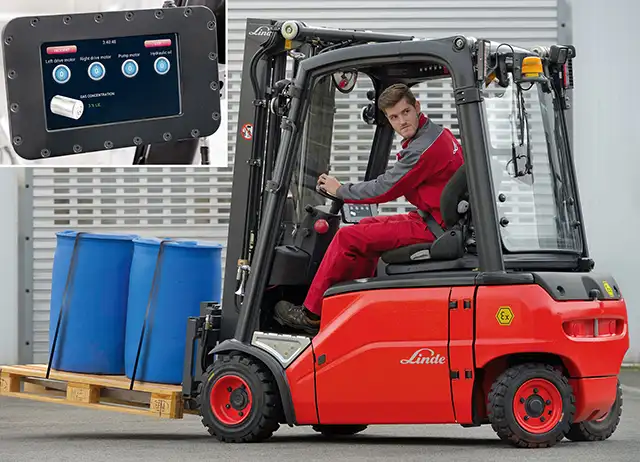 According to the standard through the danger zones
The legal requirements for explosion protection are constantly being developed and standardised. These must be implemented promptly and correctly. In the case of forklift trucks and warehouse trucks with explosion protection equipment from Linde, the vehicles themselves and the corresponding documentation are up to date with the latest legislation. They comply with EU regulations for use in potentially explosive atmospheres (EN 1755) and the ATEX Directive 2014/34/EU.
CE conformity is ensured by applying harmonised standards in the development process. All relevant components, devices and assemblies as well as the complete vehicle are subjected to a type test or certified by an accredited, renowned test centre. Linde offers vehicles for use in potentially explosive atmospheres caused by gases, vapours or dusts which occur occasionally (Zone 1/Zone 21) or only briefly (Zone 2/22) during normal operation. The vehicles in equipment category 2G/D as well as 3G/D are precisely adapted to the respective operating conditions resulting from the customer's explosion protection document.
Ex-protection measures
The Linde vehicles specially developed for the requirements in potentially explosive atmospheres combine the proven advantages of the series vehicles with comprehensive explosion protection measures in accordance with the ATEX product directives.
Electrical equipment such as motors, controls, sensors, switches or displays are protected by different types of ignition protection. Linde uses flameproof enclosure, increased safety, intrinsic safety, encapsulation, sealed equipment, non-sparking equipment and damage-proof enclosures.
Mechanical equipment is protected by design measures. The formation of mechanical sparks is avoided in the case of forks and brakes. Plastic components such as floor mats, tyres, tanks and seat covers are protected against dangerous electrostatic charging.
Electronic temperature monitoring ensures that no impermissibly high temperatures occur under extreme operating conditions.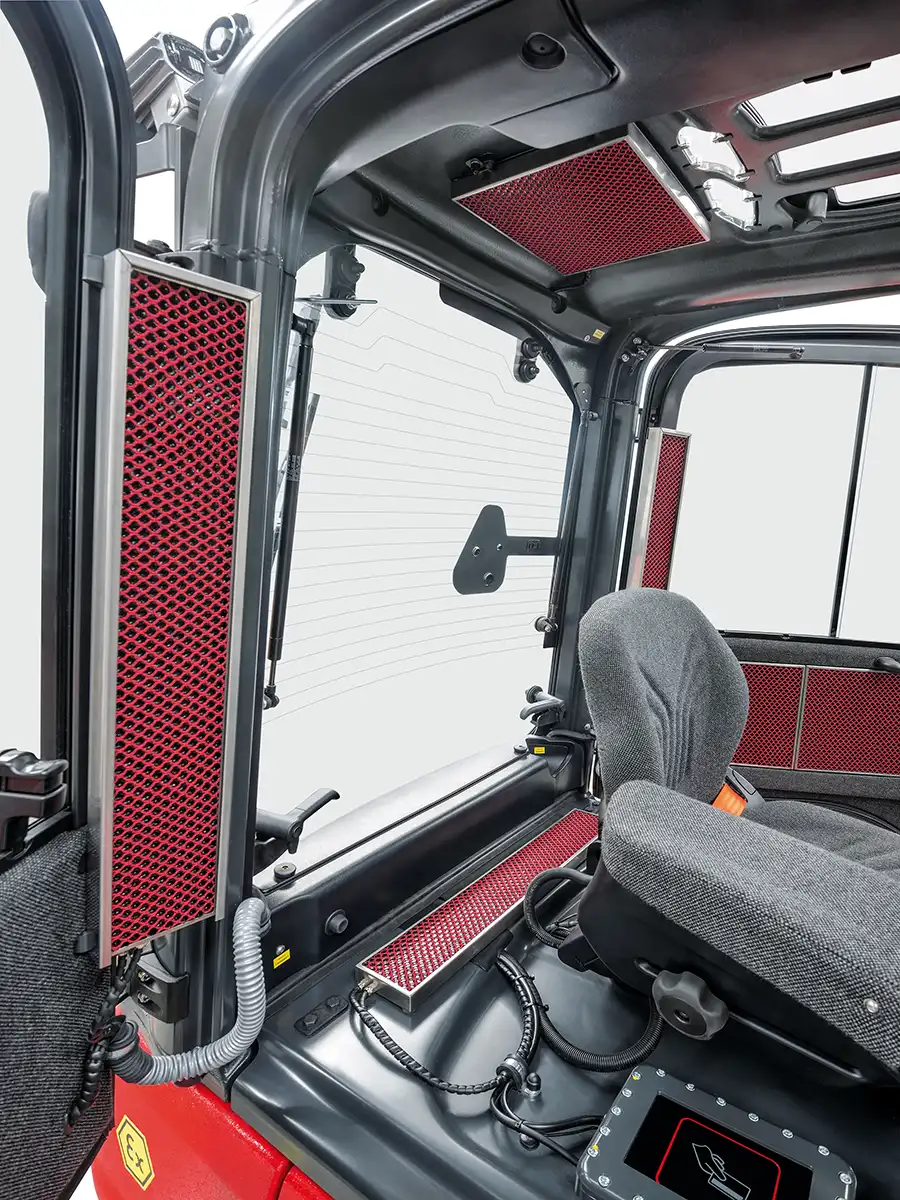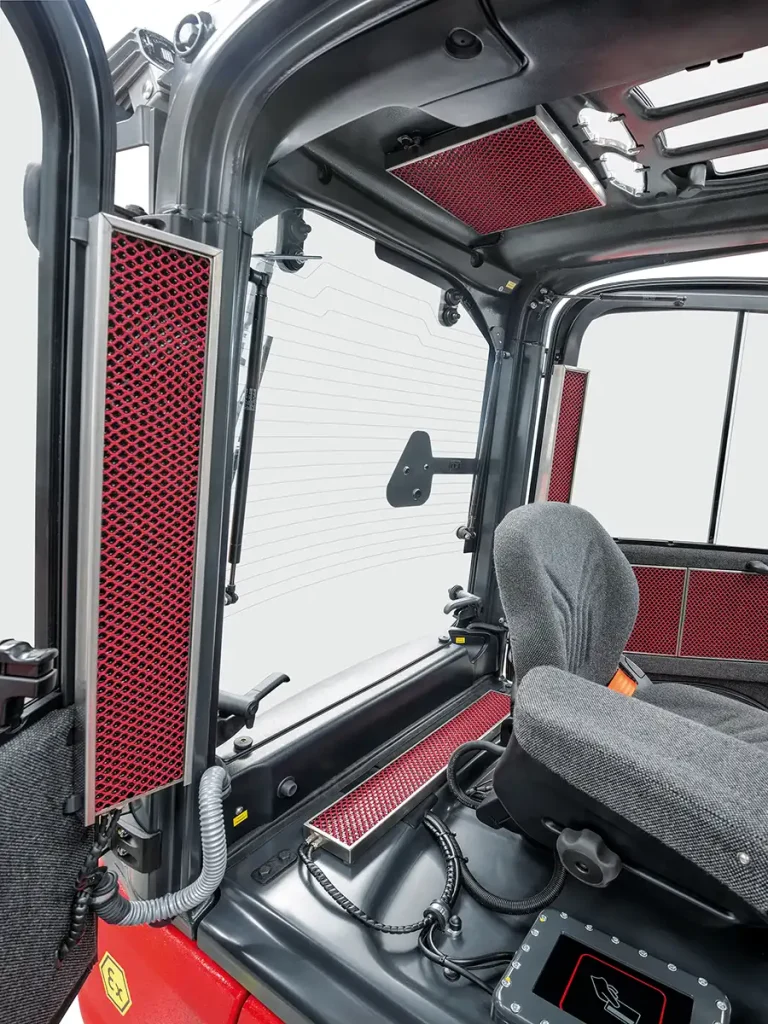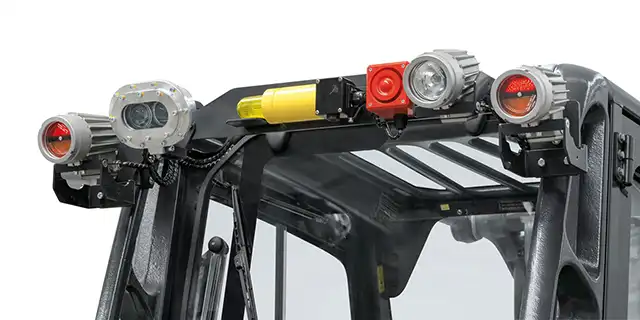 Designed according to explosion group and temperature classes
When designing explosion-protected industrial trucks, Linde engineers apply technologies that are each designed for defined explosion groups and temperature classes. Depending on how sensitive an explosive substance is, it is classified in a particular explosion group. Substances in higher explosion groups, such as hydrogen, require more elaborate protective measures on the vehicles. Substances are also classified according to the temperature above which they become explosive as a gas or mist. The respective components of the industrial trucks are designed accordingly.
Innovative technology in explosion-proof design
Thanks to close cooperation between Linde's series and explosion protection development departments, innovative assistance systems, safety features and special equipment variants are also available for use in potentially explosive atmospheres within a very short time. The selection of optional special equipment ranges from the Linde connect fleet management system to the Linde BlueSpot and the new Linde VertiLight worklight. This means that fleets can be equipped with standard and explosion-protected vehicles at the same comfort and safety level.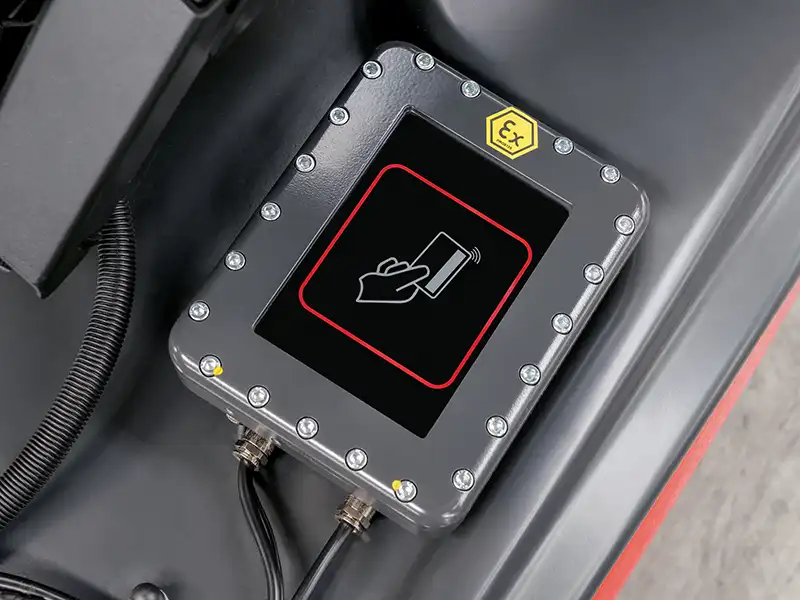 This might also interest you