Visual warning from your forklift
Linde TruckSpot
The Linde TruckSpot combines the advantages of a visual warning signal with those of a warning sign, which means that dangerous situations can be defused before they even arise. After all, the most frequent accidents involving forklift trucks occur when reversing. In most cases, unclear crossings, corners and narrow rack aisles make it difficult for the operator of a forklift truck and also for pedestrians to recognise each other at an early stage. This is because conventional warning signs can often be overlooked and acoustic warning signals do not provide any relief in noisy environments. The Linde TruckSpot is a visual warning signal that announces the approaching vehicle with a light signal in the form of a warning sign.
Your advantages at a glance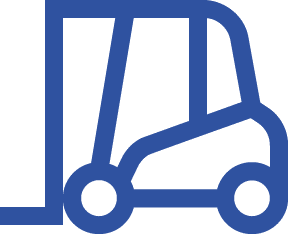 Early warning of approaching forklift trucks and warehouse equipment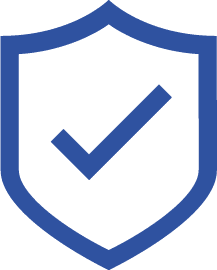 Increasing attention through moving, bright symbol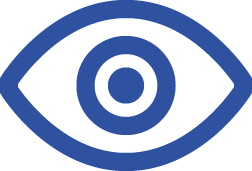 Intuitively recognised as a warning symbol, especially in noisy environments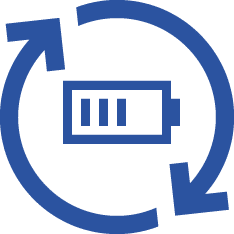 Service life of more than 20,000 operating hours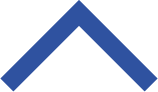 Indicates the direction of travel of the forklift truck or warehouse equipment.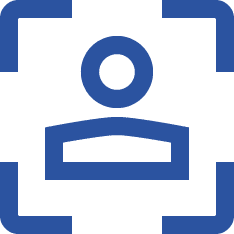 Gentle on people's hearing as no acoustic signals need to be used
How does the TruckSpot work?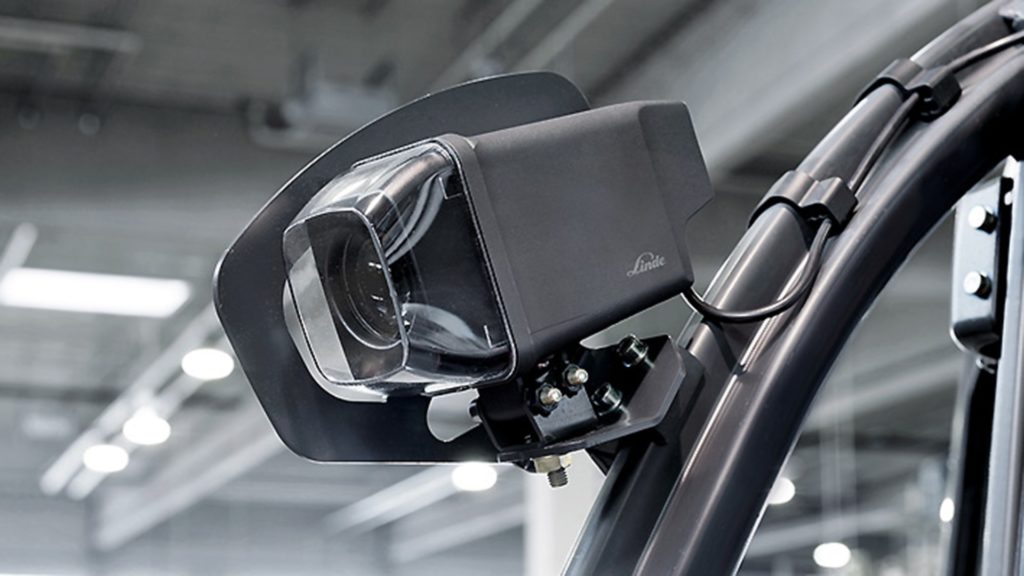 The Linde TruckSpot incorporates the latest LED technology, which delivers a service life of over 20,000 operating hours. The Linde TruckSpot is permanently mounted on the overhead guard frame of the forklift truck, for example. During adjustment, particular care is taken to ensure that pedestrians and other operators are not dazzled.
With the direction of travel set, the TruckSpot then projects the warning symbol onto the ground about four metres from the vehicle. The warning symbol has the proven look of the danger triangle, in which there is a forklift symbol to clarify the warning signal.
The concise warning symbol is always a good four metres ahead of the forklift truck when driving in the respective configured direction of travel and thus also always provides pedestrians and other operators with the current direction of travel of the forklift truck. Due to the size, the movement and the motif, the attention of the employees is immediately aroused, whereupon they can react in good time.
The TruckSpot is available for all counterbalance and reach trucks ex works and also as a retrofit.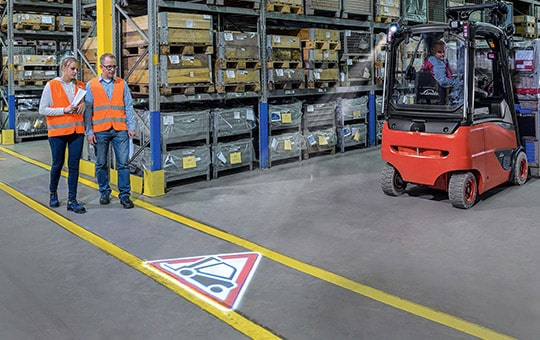 We are happy to advise you
There are many challenges in the area of material flow, but also new opportunities. To master these, the material flow must be planned quickly and precisely. This is only possible with holistic advice. Talk to us!
Application video
This might also interest you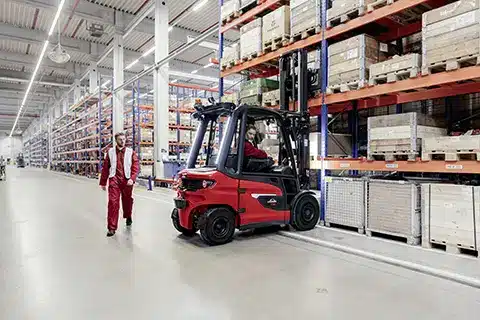 With Linde Motion Detection, movements behind the stationary vehicle can be easily detected.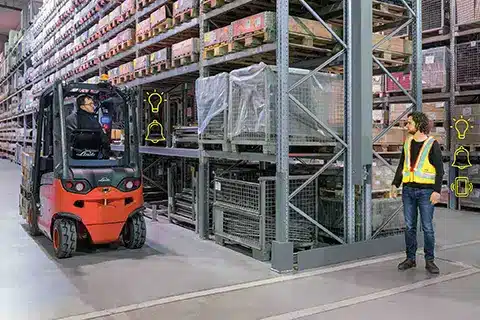 This innovative system immediately increases safety in the immediate vicinity of the vehicle, both for the driver and for pedestrians.